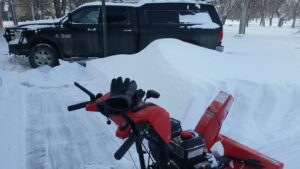 Each day I try and look at the weather online. The three places I look at regularly are Garden City, South Dakota (where we own a home), Ennis, Montana, (where we own land) and Yreka, California (where I work for the Forest service occasionally). Yreka is nearly always the warmest, which is nice this time of the year since that's where I currently happen to be. Normally, between the other two, Ennis is the milder, but not always. For instance this morning here in Northern California it's 34 degrees and we're on our way up to 51 later in the day. This will be a great day to grab some KFC and take all the grand kids to the park so they can play in the sun and we'll have a nice outdoor lunch. Wouldn't be doing that in either Garden City or Ennis today.
Right now in Ennis it's -21 with a predicted high of 18, and in Garden City it's -3 with a predicted high of 8. When I see temperatures like that I think to myself, "I sure am glad they called me to come out here and work this spring." Now I will say that we were in South Dakota until mid-January and we had temps down to -18, and if you could stay out of the wind it really wasn't that bad. You see out there the humidity level during the cold was next to nothing and unless you were getting beat to death by the wind it really didn't seem to be too cold. Each morning when I took the dog out to do his thing, unless it had snowed, there was no ice on the deck and there was no ice on the pickup windshield. It's difficult for ice to form when there's no moisture to freeze.
I have no idea how long my current work assignment will last, but for now I'm going to suck up the warmth of a mild California "winter" and enjoy myself.
On another note, since my new site has only been in existence for a couple three days I'm continuing to peck away at it in the hopes of making improvements. I'm not sure what it will end up looking like in a few weeks, but for now I like the format, and I especially like being in total control over what is here and how it displays. Please, if you have suggestions on where I might improve let me now in the comments section and I will consider them. Also, if you have a blog you'd like me to check out please let me know. It's been quite awhile since I've been in the world of blogging and I've lost track of a good number of the folks I used to follow.
That's probably enough rambling for this morning. I hope each and every one of you have a great day!