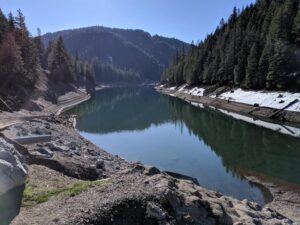 As time drags along we can get caught up in our routines. When that happens our days all seem to run together and we cease differentiating between good and bad…they are just "days". That being the case it behooves each and every one of us to take time once in a while to step out and enjoy ourselves for absolutely no other reason than to have fun. Yesterday was my time to step away and enjoy myself.
One of the loves of my life has always been fishing. Not being a purist I don't much care how I catch the fish, and simply want to stick holes in the faces of finned creatures. When I got up yesterday morning I said to myself, "You know, all your fly fishing gear is still in the truck and so is your float boat, so why not put them to use?" Determining that was a fine idea, my only other decision was where to go? I had been wondering what the access was like to McCloud Reservoir so that's the direction I headed. I had a very pleasant drive to the lake listening to bluegrass music on Sirius Radio and found the road to the boat ramp free and clear of any snow. I was greeted by sunny skies, a temperature of about 39 degrees, calm winds and crystal clear water. Looked to be a perfect day.
I started out with an intermediate sinking line and a black wooly bugger, but soon switched to a #3 sink rate line and a cinnamon colored size 10 wooly bugger. I found the fish that were willing to bite down around 15-20 feet deep. Once that was figured out I spent the morning and afternoon moving back and forth across a sunken point and along the shore of the boat ramp cove and caught fish all day. I didn't catch any big fish, I believe the largest was just over 12 inches, but they maintained a steady bite during my time on the water and I ended up netting 26 trout. It was a splendid day indeed.
After loading my boat and gear back into the truck I headed back to town. I had learned previously the candy shop I thought had closed was indeed open, so my goal was to get there before they closed, look around and buy some goodies. I arrived before closing and talked with the young lady behind the counter before purchasing anything. She was surprised to hear that I was the one who had built the cabinets in her store that now housed her supply of goodies. After picking three kinds of candy I walked into the retail portion of their store and grabbed an orange Crush in a bottle. That was my dad's favorite soda and I still love it to this day. I took a few pictures of the store and I'll include them in this post. It doesn't look quite the way it did during it's heyday, but it's still a great place to spend some time.
After leaving the candy shop I stopped by a friend's house to visit and see the progress he's made while rebuilding his early 1900's McCloud home. To say I was impressed would be putting it mildly. Steve is the one I built the candy store cabinets for originally, and he and his wife have spent countless hours renovating their place in town. They have included a great many original items in their place obtained from various sources, and walking inside is like stepping back in time, only better. The project is far from finished but he's figuring in 6 years or so it should be done. The downstairs bathroom even includes an original cast iron toilet from the McCloud Fly Fishing Club complete with wall mounted tank. It's awesome.
On the drive back home I saw it was dinner time, so I made the command decision to eat in Weed at the Hi-Lo Café…my favorite place to dine in Siskiyou County. There I had a great meatloaf dinner washed down with a cold Pepsi. Since it was still 65 degrees when I finished, I made the drive home with the truck windows down.
Now, for some folks that may sound like one boring day, but I'm a country boy who doesn't need much in the way of flash to make him happy. For me, personally, that was one hack of a good day. Fact is it's the best day I've had in a long, long time.