My book project this year is geared toward writing stories revolving around my own personal duck hunting with the hope that I can tell my wife and daughters about some of the places I've frequented, and some of the adventures I've had, and give them a better understanding of why I do what I do. I thought it might be a good idea to put them here on my own site to share with whoever might want to travel along with us. I will post those stories here as I write them this year. We will start with the prologue.
**********************************************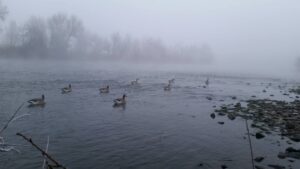 Prologue
For a duck hunter there is no more important part of the day than when the darkness fades away into the early morning light. It's a magical time when all things come to life, and no matter how many times you take your seat in the theater, the show is never the same. It matters not how old you are, at the first hint of the curtain being drawn the anticipation of what might be breathes life into tired bodies and all waterfowlers are young again. True duck hunters are as attached to this time of the day as leaves are to trees. One simply cannot exist without the other. Memories made at dawn do not dwell within our minds, they become part of our hearts, forever growing in stature and in the end are larger than life.
I have watched this scene unfold for well over fifty years while chasing shadows in multiple states and two countries. Sometimes I feasted with kings, sometimes begged with paupers, but there isn't one second of my time in the marsh that I would trade for anything else in the universe. When the day comes that I am unable to embrace that which I have loved for so many decades I will weep, but I will never forget.
Last year my daughters challenged me to write a short book based on a series of questions they provided. I enjoyed that project, so I decided to continue with a second volume. However, this time around I am providing my own set of "questions". I will not do this simply for their enjoyment, but as a way to give them, and anyone else willing to listen, a glimpse into a part of my fabric that can never be unwound. Waterfowling is not who I am, it's what I am. The story styles I will share here may vary from time to time, but everything contained between the covers of this book will be true. I want you to see what I have seen. I want you to feel what I have felt. So please, sit back in your chair by the fire and walk with me while I share with you my misty morning memories.